Commentary:
Why God's People Suffer 2Thessalonians 1-3


Local History:
* The Roman Empire and Israel [Judea]
Scriptures: (98vs)
* 2 Thessalonians 1 (12vs) 2 (17vs) 3 (18vs) | * Acts 18:12-28 (17vs) 19:1-34 (34vs)
Paul answered questions from the Thessalonian assembly of believers
This 2nd letter from Paul, Silvanus, and Timothy was probably written from Corinth soon after the first was written

about 52 AD

, 2nd trip - see more
2 Thessalonians 1 (12vs)
Thessalonian believers couldn't leave persecutors and shake off the dust.
2 Thessalonians 2 (17vs)
They asked about the return of Jesus, the signs, and the waiting lifestyle.
2 Thessalonians 3 (18vs)
Neither rebels nor moochers, believers withdraw from some and admonish others.
"stand firm by remembering that God set up His plan for believers to be saved through what the Holy Spirit does and through your believing the truth. Be encouraged." (2Thessalonians, Today's Bible Commentary)
---
2nd Tour continues: ca 52-54 AD - Paul and entourage
Acts 18:12-17 (6vs)
Corinth - Proconsul Gallio of Achaia refused to hear the unbelieving Jews' complaints.
Gallio didn't really care that the Greeks then beat Sosthenes, the ruler of the synagogue.

Acts 18:18-21 (4vs)
Paul sailed for

Syria

with Aquila and Priscilla.
At Corinth's nearest seaport, Cenchreae (Kenchreai), Paul made a vow and shaved his head.
At

Ephesus

Paul reasoned with the Jews on Sabbaths; Aquila and his wife stayed there.

Acts 18:22 (1vs) - End of Mission Trip #2
Paul went to

Caesarea

, up to

Jerusalem

, then north to

Antioch

where he stayed for some time.

Acts 18:24-28 (5vs) During this time...
Back in

Ephesus

, Aquila and Priscilla met a Jew named Apollos from Alexandria Egypt who was both eloquent and knowledgable in the scriptures. Aquila and Priscilla pointed him to Jesus the Messiah. When Apollos left Ephesus (western Turkey), he moved to Achaia (western Greece), where he powerfully refuted the Jews by publicly showing them from scriptures that Jesus is the Christ.
---
Acts 19:1-7 (7vs)
Later Apollos was teaching at Corinth, and Paul met some disciples from Ephesus who had never even heard about the Holy Spirit, or receiving Him. They were baptised into the name of Jesus, and soon there was the evidence they had received the Holy Spirit.
Acts 19:8-20 (13vs) (likely wrote the letter called 1 Corinthians from Ephesus
For 3 months in the synagogue at Ephesus, Paul reasoned and persuaded the Jews about the Kingdom of God. When some Jews rejected the Way, Paul and the disciples reasoned daily in the school of Tyrannus for 2 years. Both Jews and Greeks could hear of Jesus' way there, and miracles confirmed the word. News even came about what happened when Jewish exhorcists tried to use Jesus' name without believing or knowing him. Believers denounced the magical arts they had done, and they publicly burned their own books together. Interest and belief in the word grew.
Acts 19:21-22 (2vs)
Through the Spirit, Paul planned to go on through Macedonia and Achaia, and sent Timothy and Erastus ahead of him there. After Achaia he planned to go to Jerusalem, and to Rome.
Acts 19:23-34 (12vs)
Demetrius, a silversmith of Ephesus, saw Paul as a threat to all silversmiths who made their living selling silver idols. He call a meeting of fellow craftsmen and pointed out Paul's threat to the idol goddess Artemis who was widely worshipped. The riot that followed led to the theater where Paul would teach, but disciples prevented him from speaking.
---
Next
Top
---
Map of 3rd Mission Tour - click to enlarge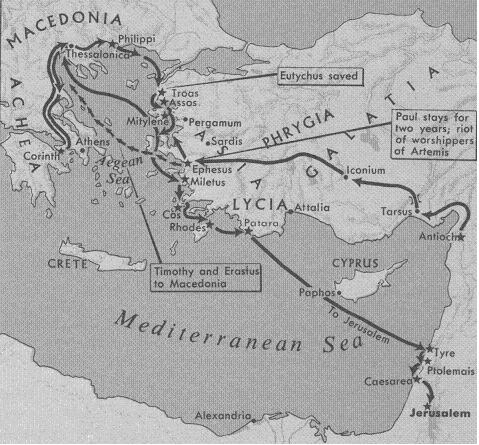 ---
Local HISTORY charts:




History of the Dispersed Jews from Judea area around Jerusalem:


* Diaspora, wikipedia * Dispersed Jews of Africa and Asia et al
* FAQ.org - "After being conquered and dispersed by the Babylonians, Persians, and Greeks, Judea again became independent under the Hasmonean Jewish Kingdom from 165 to 63 B.CE."

Roman Empire citizens begin to hear about the Messiah in Israel

TIMELINE:
Approximate dates of various events of the apostles
* NT Introduction and The Book of Acts, Baruch Smith

Roman Empire - secular dates of reign list of the Emperors of Rome

* Map of the rise and fall of Roman Empire, 753 BC-1453 AD

REIGNED: 81-96 AD - Caesar Domitian, emperor of the Roman Empire for ca 15 years. Ending the Flavian dynasty, he was assassinated.

REIGNED: 79-81 AD - Caesar Titus, emperor of the Roman Empire for ca 2 years, dying of a fever.

79 AD: Mt Vesuvius erupted, following a disasterous earthquake around Pompeii in 62 AD.
REIGNED: 69-79 AD - Caesar Vespasian, emperor of the Roman Empire for about 10 years. Having been a military leader, he conquered Britain in 43 AD, was at the Judea Rebellion (66-73), and was reigning when Jerusalem fell (70AD). Construction on the Colosseum (ca 71-80 AD) began during his reign.

REIGNED: 69 AD - Caesar Vitellius, emperor of the Roman Empire for 8 months.

REIGNED: 69 AD - Caesar Otho, emperor of the Roman Empire for 3 months.

REIGNED: 68-69 AD - Caesar Galba, emperor of the Roman Empire

REIGNED: 56-68 AD - Caesar Nero, emperor of the Roman Empire ruled during the great fire of Rome (64AD). The Judea Rebellion began (66 AD) during his reign. He committed suicide rather than be assasinated, aged 30.

REIGNED: 41-56 AD - Caesar Claudius, emperor of the Roman Empire conquered Britain, Judea, Phamphylia, Lycia.
Aquila and Priscilla moved to Corinth because Claudius exiled all Jews from Rome.

REIGNED: 37-41 AD - Caesar Caligula, emperor of the Roman Empire

REIGNED: 14-37 AD - Caesar Tiberius, emperor of the Roman Empire

REIGNED: 27 BC - 14 AD - Caesar Augustus, emperor of the Roman Empire, ordered a census of the entire empire ca 6-4 BC; Luke 2:1.

---
Rulers of Rome and Israel when Jesus was crucified


Harmony reading 4: Jesus was crucified in Judea (Nov 4)
DATE: ca 30 AD - around the age of 33, Jesus was crucified after being tried by Pontius Pilate and High Priest Annas
DATE: ca 6 AD - Annas High Priest officially from 6-15 AD, but who lived until assasinated in 66 AD
DATE: ca 14-37 AD - Tiberius Caesar, Emperor of the Roman Empire, began his reign

DATE: ca 18-36 AD - Caiaphas High Priest from 18-36 AD (John 18:13 - son-in-law of Annas)
DATE: ca 4 BC-34 AD - Philip the Tetrarch of Ituraea and Trachonitis, son of Herod the Great, died
DATE: ca 26-36 AD - after ruling about 10 years, Pontius Pilate was exiled to Gaul, perhaps by the cruel and insane Caligula who ruled Rome from 37–41 AD

DATE: ca 37 AD - Tiberius, Emperor of the Roman Empire, died and was followed by Caligula (AD 37–41) who claimed divinity

DATE: ca 39 AD - Tetrarch Herod Antipas was exiled from Galilee and Perea by his nephew Agrippa I who took over Galilee and Perea

Index | Next | Reading reminders